Fulvestrant Injection
Healthiza is counted as a leading Fulvestrant Injection supplier, manufacturer and exporter, offering the best quality pharmaceutical medicine with fast and secure global shipping.
Pharmaceutical form Injection

Category Anti Cancer

Brand Name Fulvestrant Injection

Content Fulvestrant (250mg)

Pack 1x1vial

Therapeutic Use To treat breast cancer in women who have gone through menopause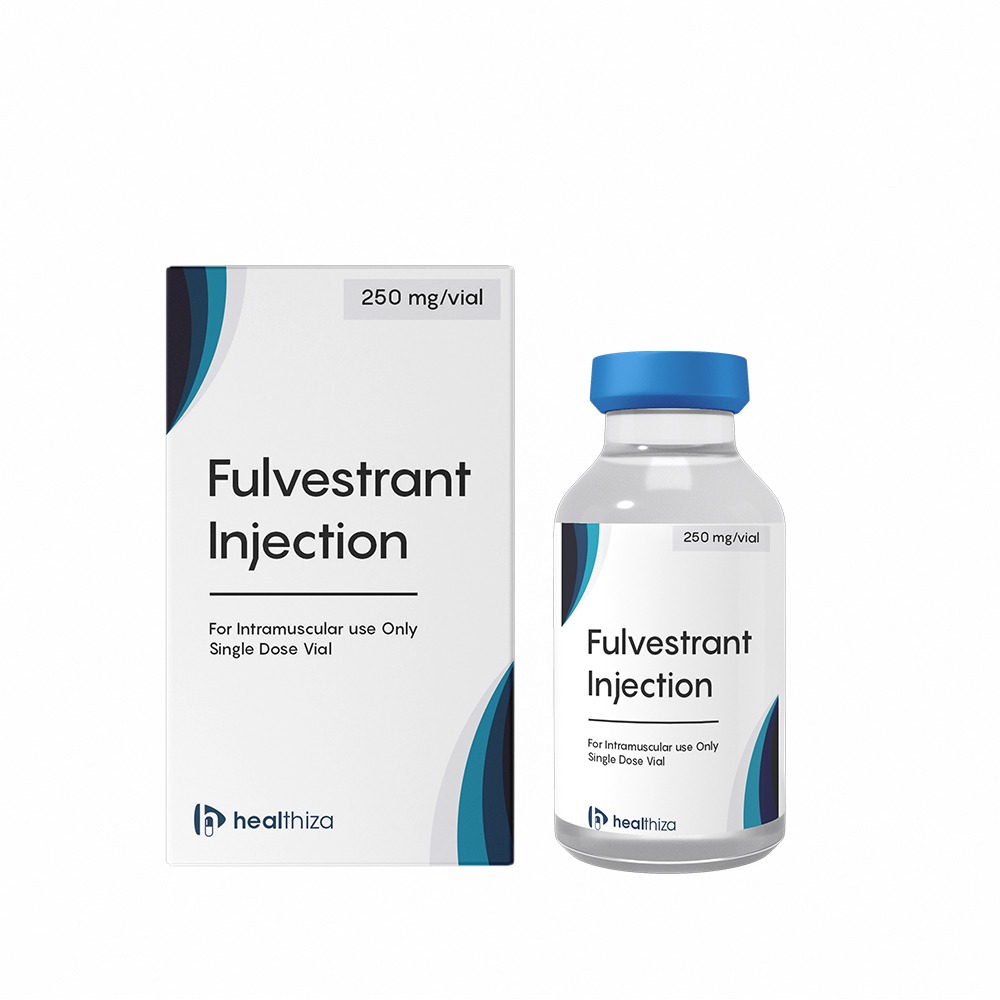 What is Fulvestrant Injection?
Fulvestrant injection is often used alone or in combination with other medications to treat advanced breast cancer or breast cancer that has spread to other parts of the body in women who have gone through menopause and have not been treated with an anti-estrogen medication like tamoxifen.
How To Use
Fulvestrant is a liquid solution that is injected slowly into a muscle in the hips over a period of 1 to 2 minutes. A healthcare professional in a medical centre administers Fulvestrant injection. For the first three doses (1, 15, and 29 days), it's normally administered once every two weeks, then once a month after that. Your medication will be given to you in 2 different injections (one in each hip).
Fulvestrant Injection - Benefits
Benefits in Breast Cancer
Fulvestrant Injection reduces breast cancer symptoms such as tumours in the breast, bloody nipple discharge, and changes in the form or structure of the breast. It works by affecting the production of hormones in the body that are necessary for breast cancer growth and spread. It may also act with other hormones or have a direct impact on cancer itself, slowing or stopping its progression.
Precautions for Fulvestrant
If you have an allergy to fulvestrant or any of the components in fulvestrant injection, notify your doctor.
Tell your doctor about any prescription and over-the-counter medications, vitamins, nutritional supplements, and herbal products you're using or planning to use.
Anticoagulants (blood thinners) such as warfarin should be mentioned. Your specialist may need to adjust your prescription dosages or keep a close eye on you for side effects.
If you have or have ever had bleeding difficulties or liver illness, tell your doctor.
If you are pregnant or expect to become pregnant, notify your doctor.
You should avoid getting pregnant while taking fulvestrant and for at least a year after finishing the treatment. Consult with your doctor about contraceptive options. Fulvestrant has the potential to harm the foetus.
If you're breastfeeding, let your doctor know. You should not feed during your fulvestrant treatment and for one year following the last dosage.
You should be aware that this drug has the potential to reduce fertility in both men and women. Consult your doctor about the hazards of fulvestrant injection.
Fulvestrant Injection - Side Effects
The majorities of side effects are minor and will go away as your body adapts to the medication. If they don't go away or you're concerned about them, see your doctor.
Nausea/vomiting, lack of appetite, constipation, diarrhoea, upset stomach, dizziness, weariness, headache, hot flashes, or difficulties sleeping are all possible side effects.
Remember that your doctor provided this medication because he or she believes the advantage to you exceeds the risk of adverse effects. The majority of people who take this medicine do not have any substantial adverse effects.
If you experience any serious side effects, such as tingling in your arms or legs, back/leg discomfort, bone/joint pain, or mental/mood changes, contact your doctor straight away.
This medicine rarely causes a severe allergic reaction. However, if you detect any symptoms of a major allergic response, such as a rash, itching/swelling, extreme dizziness, or problems breathing, seek medical treatment right away.
Consult the doctor if you have any other side effects not listed above.
Some Tips for Fulvestrant
Fulvestrant Injection is a hormone-receptor agonist that is used to treat hormone-dependent breast cancer.
It should only be used by women who have reached menopause and are unable to conceive.
It's injected slowly into the muscles of your buttocks (intramuscular).
If you have a bleeding issue, kidney or liver disease, or are taking blood clot-prevention medication, tell your doctor.
If you are pregnant or breastfeeding, do not use Fulvestrant Injection.
Fulvestrant Injection Supplier
Healthiza is one of the leading Fulvestrant Injection supplier and manufacturer, offering the best quality medicine globally through a validated cold chain secure shipment process. We use this process to manufacture, store and deliver medicines at a very specific temperature. Customers can avail of this premium quality pharma product at an affordable price from us.
Information for the patient
Read the package leaflet for indications, contraindications, side effects, dosage as well as information on the use of this product, or consult your doctor or pharmacist before use. Misusing medicines may be dangerous to your life or health.
See how we care about quality
All our products are subject to strict safety requirements
All our products are subject to strict safety requirements
SEE HOW WE CARE ABOUT SAFETY