THIRD PARTY MANUFACTURING
Third Party Manufacturing Companies
Pharma third party manufacturing companies offer dedicated manufacturing services to other pharma companies with their own brand name that enable them to redistribute, supply, and export products to end users.
You have come to the right place if you want to start your own Pharma business in your location with minimal investment and create your own brand of pharma products. Healthiza Life, the leading pharmaceutical third party manufacturing company, offers premium manufacturing services. We strive to make outsourcing as simple and flexible as possible for our pharma partners.
Why We Need Third Party Manufacturing Companies ?
Many pharma manufacturing companies do not manufacture their own products instead they provide third party and contract manufacturing services to number of pharma and healthcare companies. In this situation, establishing a positive professional relationship between the emerging company and its third party manufacturer is important. We will explain our customer a Pharma Manufacturing Process in detail. This encompasses everything from the cost to the taxation, which is the most important aspect of the procedure.
After that, have a thorough discussion with the third-party manufacturer you've chosen about all of the requirements you'd like the manufacturer to include in your pharmaceutical company's products. Inquire about pricing and tax rates. Following the completion of all of your inquiries, there are a few stages to the third-party manufacturing pharma process.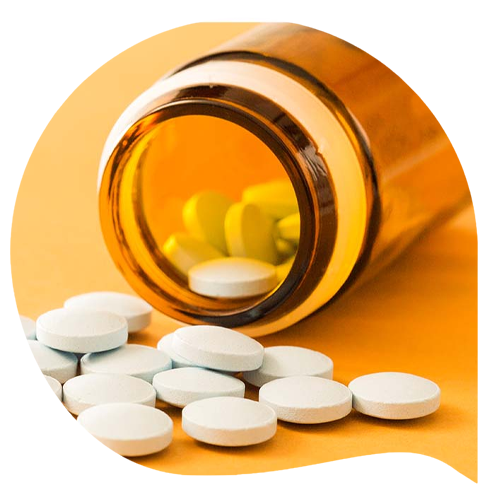 Process of Pharma Third Party Manufacturing Companies :
First and foremost, the DRUG department must approve the formulation.

Following that, you can obtain printed packaging materials such as foils, cartons, labels, and so on.

Then you must wait for the Pharma products to get manufactured.

After that, there's transportation. It is dependent on the delivery method. We provide fastest delivery too.
Documentation for Pharma Third Party Manufacturing
To take Pharma Third Party Manufacturing services, you'll need a few fundamental documents. Because you'll need the company's GST and drug licence numbers. You can establish your pharma business from your own brand name once you have both essential documents. You can quickly apply for a third-party pharmaceutical manufacturing service.
What Do We Offer to Pharma Compnies ?
We provide contract manufacturing services for all high-quality pharma products such as tablets, capsules, dry syrups, ointments, syrups, and softgels.

Our services include raw material procurement, production, packaging, and quality control, depending on your requirements.

We are able to seamlessly integrate into your supply chain thanks to our adaptable strategy.

Looking forward to forming a strategic alliance and working together for mutual benefit.

Pharmaceutical company with ISO, USFDA, and GMP certifications.
Strategic Alliance's Economic Value :
Validated and authorized methods ensure a consistent supply of high-quality products.

Reduce production headaches while increasing net revenues and profits

Divert resources to marketing, which is their primary competency.

Before shipping, our quality control team inspects and approves all products.

Monitor and improve the delivery timeliness of the Products We Offer
Please contact us if you wish to create medicine under your own brand name and are looking for a pharma third party manufacturing companies in India.
Join with best Pharma Third Party Manufacturing Companies
Healthiza Third Party Pharmaceutical Manufacturing Company is a pharma company that manufactures high-quality medicines in WHO-GMP-compliant integrated manufacturing facilities. Third Party Manufacturing Company partners with around 2000 associates for its production facilities. We produce products in large quantities, which lower manufacturing and labour costs. The following are the characteristics of a Third Party Manufacturing Company:
Advanced Technology– The WHO-GMP authorities have certified our production facilities. Furthermore, our facilities are advanced and equipped with cutting-edge technology.
International Gratitude– We manufactures outstanding pharma products with time and space as a third-party manufacturing company. We make every attempt to provide our consumers with high-quality, safe, and effective products.
Grow your business on a limited budget– The possibility to expand your business enterprise is offered by a top pharma third party manufacturing company like Healthiza. We do everything to develop the greatest product for our clients so that they can continue to grow and thrive.